Crush Your Workout!
Get Huge Muscular Gainzz !!
without Visiting The Gym .
Now you can crush your Workout from Home without all the expensive equipment, and without spending time and money going to the gym.
RESISTANCE BANDS SET COMES WITH EVERYTHING YOU NEED
GYM EXERCISES WITHOUT THE GYM
We have assembled the Resistance band Set so you can get Multiple different exercises with different levels of resistance that fit to your level, you can do your workout anywhere at anytime.
Resistance-Band exercises stand toe to toe with the best exercise machines from the gym, but so much better! Unlimited Angles, and Portability will change your mind about how to build muscle & what type of equipment to use.
You can work out every muscle area with the differently exercise routines provided with every KALI order.
This stackable set of exercise chords can produce up to 100 LBS of weight by clipping more than one band to the handle
To make sure you know all the routines needed for a full body workout, we added a workout guide to your order for FREE
No extra charges! Just place an order and we'll deliver to your doorstep for FREE
Order online and only pay us when we deliver exactly what we have promised. 100% risk free and satisfaction guaranteed
If you don't see great result within 30 days of using this product with the workout guide, we'll give your money back. No questions asked!
We have fitness experts on hand 24/7 ready to help you with all your body and fitness questions. This consolation is valued at ₦10,000 but is offered for free with your purchase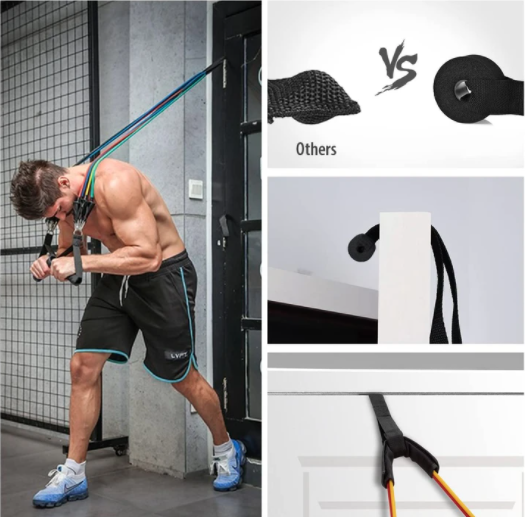 As a banker working in Lagos i found it very difficult going to the gym and working due to the limited time and the stress from work, but since i bought these bands its been a different story, i do all my workouts with these bands now, its awesome!
I'm a professional fitness coach and trainer with 14 years of experience i use and recommend these bands to my clients especially my females who've got very little time to use the gym, the results are always class
Found these bands during the lockdown when gyms where closed and since them ive been using them and don't have to use the gyms no more, i do crazy intense workouts with my KaliBands!
Frequently Asked Questions
Answers To Your Most Frequent Questions 
100% Money Back Guarantee
We have so much confidence in the quality of this product and the results its has produced. If you don't see great results within 30 days of using this product with the workout guide, we'll give your money back. No questions asked!
KALI Resistance Bands delivers nationwide and every purchase come with a FREE Workout Guide.
Take amazing photos, send us a picture to get an extra discount or be featured on our Instagram page